Becoming a teaching assistant requires the right qualifications, skills, and relevant experience. With a strong foundation in these areas, you can become a valuable asset to the education system and make a meaningful impact in the lives of students. In this article, we will guide you through the process of becoming a teaching assistant in the UK, covering essential qualifications and skills, various routes to gaining relevant experience, and how to stand out in the job market.
Teaching assistants play an integral role in the education system, providing essential support to both teachers and students. However, despite their importance, the profession of a teaching assistant in the UK is often undervalued and underpaid. In this article, we will explore whether being a teaching assistant is worth it by examining the advantages and disadvantages of this role.
Key Takeaways
Qualifications, skills, and relevant experience are essential for becoming a teaching assistant.
Teaching assistants play an integral role in the education system, but the profession is often undervalued and underpaid.
We will explore the pros and cons of being a teaching assistant in the UK.
Related Posts:
Understanding the Role of a Teaching Assistant
As a teaching assistant, you play a vital role in supporting teachers and students in creating a positive learning environment. Here are some of the key responsibilities of a teaching assistant:
Key Responsibilities
Helping with classroom management and maintaining discipline
Assisting students with their work, especially those with learning difficulties or disabilities
Preparing learning materials and setting up equipment for lessons
Supporting teachers in planning and evaluating activities
Monitoring and assessing students' progress
Working Environment
The working environment of a teaching assistant varies depending on the school and age group they are working with. In general, you can expect:
Classroom-based work with the students and teacher
One-to-one support sessions or small group activities
Occasionally assisting during outdoor activities or off-site visits
A standard workweek of around 30 to 37 hours, with potential extracurricular duties
Types of Schools
Teaching assistants can work in different types of schools, each with unique characteristics and requirements:
Mainstream Schools: These include primary, secondary, and academy schools, where you assist a diverse group of students with varying needs.
Special Educational Needs (SEN) Schools: These schools cater specifically to students with learning difficulties and disabilities, and you may need additional training to work effectively in this setting.
Independent Schools: Private schools often have smaller class sizes, and you might have more opportunities to work closely with individual students and offer personalized support.
Understanding the role of a teaching assistant will help you choose the right school and working environment that aligns with your strengths and career goals.
Related Posts:
Qualifications and Skills Needed
Aspiring teaching assistants in the UK must possess the right qualifications and skills to succeed in this role. This section outlines the minimum requirements, desirable qualifications, and transferable skills that are necessary.
Minimum Requirements
To be considered for a teaching assistant position, you must have a good standard of general education, including GCSEs in English and Maths at grade C/4 or above. Some schools or local authorities may also require:
A Level 2 or Level 3 Qualification in Supporting Teaching and Learning
A NVQ Level 2 Qualification in Childcare and Education
First Aid Training
An Enhanced DBS Check
Desirable Qualifications
While not strictly necessary, additional qualifications can make you more competitive when applying for teaching assistant roles:
A degree or diploma in a relevant subject, such as Education or Child Development
Specialist qualifications, e.g., in Special Educational Needs (SEN) or Autism Spectrum Disorder (ASD)
Additional language skills, especially if you want to work with English as an Additional Language (EAL) learners
For more information on teaching assistant courses online, please see this post.
Transferable Skills
Successful teaching assistants possess a range of transferable skills that allow them to support students effectively:
Communication: You must be able to convey information clearly and adapt your communication style to suit the needs of different students.
Patience: Working with children requires patience and understanding, particularly when dealing with challenging behaviour or complex needs.
Organisation: Being organised is essential for managing the workload and supporting teachers with various tasks, such as lesson planning and resource preparation.
Teamwork: Teaching assistants must collaborate with teachers, parents, and other school staff to ensure students receive well-rounded support.
Initiative: Effective teaching assistants can identify when students need assistance and proactively offer support.
For more information on what makes a good SEN teaching assistant, please see this post.
Related Posts:
Finding and Applying for Teaching Assistant Jobs
Begin your job search by identifying the types of schools and educational institutions where you would like to work. Consider factors such as location, the school's ethos, and its student demographic. Follow your favourite schools and educational institutions on social media as they frequently post job announcements. Some key job platforms to explore include individual school websites, local authority job boards, and online job portals like Guardian Jobs or Indeed.
A well-crafted CV and cover letter are crucial to secure an interview. Highlight your educational background, particularly any teaching or childcare qualifications. Include any relevant work or volunteering experience. Emphasize your transferable skills, such as communication, organization, and problem-solving abilities. In your cover letter, demonstrate your passion for becoming a teaching assistant and personalize each application to show that you understand the values and requirements of the school to which you're applying.
Thorough preparation will help you excel in your teaching assistant interview. Research the specific school and its ethos. Review the national curriculum and any special needs frameworks. Prepare responses to common teaching assistant interview questions, including examples of how you've managed challenging situations. Consider possible lesson plans or tasks to showcase your teaching skills (some interviews may involve a practical element). Remember to maintain a professional appearance, exemplify your communication skills, and most importantly, be yourself during the interview process. Prospective employers value genuine passion and commitment to education.
Related Posts:
Career Advancement and Professional Development
Further Training Opportunities
Continuous professional development is crucial for teaching assistants who want to advance their careers. There are several further training opportunities available, including:
HLTA status: This allows teaching assistants to take on more responsibilities in the classroom, such as planning, teaching and assessing pupils under the supervision of a teacher.

Specialist qualifications: These enable teaching assistants to focus on specific areas of interest, such as supporting pupils with special educational needs (SEN) or English as an additional language (EAL).

Foundation degrees: Studying for a foundation degree in education or a relevant subject can enhance career prospects and enable teaching assistants to progress to a full degree in the future.
Career Pathways
With experience and further education, teaching assistants can pursue a variety of career pathways within the education sector, such as:
Senior teaching assistant: As teaching assistants gain experience, they may be entrusted with additional responsibilities, including coordinating and managing other teaching assistants within their school.

SEN support: Teaching assistants who have a passion for supporting pupils with special educational needs can specialize in SEN support roles, such as SEN intervention, SEN coordination, or SEN pastoral care.

Further study and teaching: Teaching assistants who aspire to become fully qualified teachers can undertake further study through a Postgraduate Certificate in Education (PGCE), School Direct, or a university-led teacher training programme.
As teaching assistants progress in their careers, they should make the most of the opportunities available to them, develop their skills and qualifications, and follow the career pathway that best suits their interests and goals.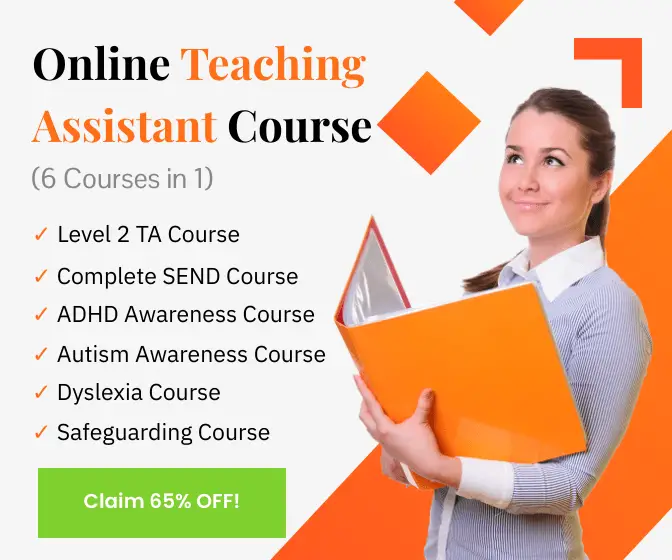 Related Posts:
Frequently Asked Questions
What are the education requirements to become a teaching assistant?
To become a teaching assistant, the initial step is to earn a high school diploma or GED. Most post-secondary schools require it for you to enroll or apply for admission. Some institutions may also require an associate's or bachelor's degree, but it varies from state to state.
What are some qualities needed to be a successful teaching assistant?
To be a successful teaching assistant, you need to have good communication skills, patience, adaptability, and a willingness to learn. Additionally, having strong organizational and time-management skills, being detail-oriented, and having the ability to work well in a team are also crucial.
What are the typical duties of a teaching assistant?
The duties of a teaching assistant are both clerical and instructional. They support the lead teacher in an educational setting, helping with tasks such as grading assignments, preparing lesson plans, and setting up classroom materials. They may also work with students one-on-one or in small groups to provide additional support and guidance.
Are there any online certification programs for becoming a teaching assistant?
Yes, there are online certification programs available for becoming a teaching assistant. These programs vary in length and cost, but they typically cover topics such as classroom management, teaching strategies, and child development. It's important to research and choose a reputable program that aligns with your career goals.
What is the job outlook for teaching assistants?
According to the Bureau of Labor Statistics, the employment of teaching assistants is projected to grow 6 percent from 2020 to 2030, which is about as fast as the average for all occupations. The demand for teaching assistants is expected to increase due to rising student enrollment in schools.
What are the requirements for becoming a teaching assistant in Florida?
In Florida, the requirements for becoming a teaching assistant vary depending on the school district. Generally, a high school diploma or equivalent is required, and some districts may also require an associate's or bachelor's degree. Additionally, some districts may require a passing score on the ParaPro Assessment or a similar exam. It's important to research the specific requirements for the district you're interested in working for.